Nothing says summer quite like the aroma of barbecued ribs wafting through the air. But for those who are looking for a spicy twist on this classic cookout favorite, classic spicy barbecued ribs are a great way to add some heat to your next outdoor gathering.
To make classic spicy barbecued ribs, you'll need a few simple ingredients. Start with a slab of pork ribs and rub them with your favorite seasoning blend. Once the ribs are evenly coated, place them in an oven-safe baking dish and cover tightly with foil. Bake the ribs in a preheated 350-degree oven for approximately two hours.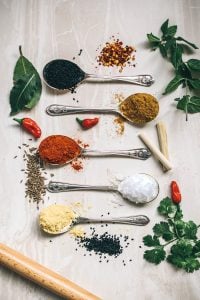 Once the ribs are done baking, remove them from the oven and turn the heat up to 375 degrees. In a medium-sized saucepan, combine 1/2 cup of ketchup, 1/4 cup of Worcestershire sauce, 1/4 cup of brown sugar, 2 tablespoons of apple cider vinegar, 2 teaspoons of garlic powder, 1 teaspoon of smoked paprika and 1/4 teaspoon of cayenne pepper. Simmer the mixture over medium-low heat until it thickens, stirring occasionally.
Once the sauce is ready, brush it over the ribs and return them to the oven for an additional 25 minutes. Remove the ribs and brush with additional sauce. For a smokier flavor, you can also add a few drops of liquid smoke at this point.
Once the ribs have cooled slightly, serve them with your favorite sides and enjoy! Classic spicy barbecued ribs are sure to be a hit with guests of all ages. With just a few simple ingredients, you can easily turn your favorite summer dish into a deliciously spicy treat.
Ingredients
MAIN INGREDIENTS
 2 slabs of pork back ribs
 2 tablespoons of your favorite rub (we recommend a spicy chili rub)
 1/4 cup of your favorite barbecue sauce
 1/4 cup of honey
 1 tablespoon of Worcestershire sauce
 2 tablespoons of hot sauce
Instructions
1. Preheat your oven to 350 degrees Fahrenheit.
2. Remove the membrane from the back of the ribs, and coat them generously with your rub.
3. Place the ribs in a roasting pan, cover them with foil, and bake them in the oven for 2 hours.
4. Meanwhile, mix together the barbecue sauce, honey, Worcestershire sauce, and hot sauce in a small bowl.
5. After the ribs have cooked for 2 hours, remove them from the oven and brush them generously with the sauce mixture.
6. Place the ribs back in the oven and continue to bake for an additional 30 minutes.
7. When the ribs are done cooking, remove them from the oven and let them rest for 10 minutes before serving.
Notes
These classic spicy barbecued ribs are sure to be a hit with your family and friends. The combination of the sweet and spicy flavors will keep everyone coming back for more. Enjoy!
Did You Make This Recipe?
How you went with my recipes? Tag me on Instagram at
@PenciDesign.